Rose School of Karate
Laconia Visit 06/12/06
---
4th Degree Black Belt Yondan Russ Jones of the Sachem School of Self Defense - who has trained with me since 1985 - invited all of the local C&S Self Defense Association clubs to attend a joint workout at his club in Laconia, NH Monday June 12, 2006. I was asked to teach class, which I glady did and hopefully all had a good time as a result, though I kept them moving. Well, sort of... I took an hour and 40 minutes just doing and discussing the basics. I had a good time anyway!

Besides myself of the Rose School of Karate in Portsmouth, NH, other clubs represented by direct disciples of mine were: Sandan Tim House of the Tai Chien Dojo in Portsmouth, and Nidan Scott Williams of The Red Leaf Karate Club in North Berwick, ME.
---

The Sachem members gathered for a smile after class!

Nidan Scott Williams, myself, Sandan Tim House and Yondan Russ Jones.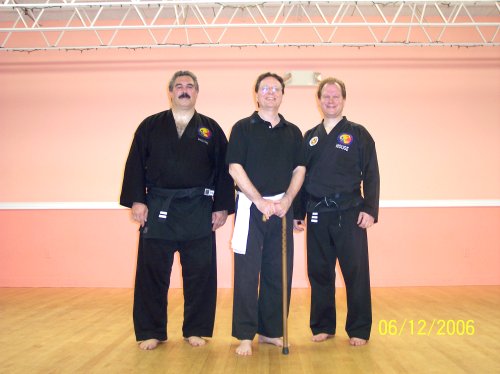 Nidan Scott Williams, myself, and Sandan Tim House.
---
Back to Rose School of Karate Home Page